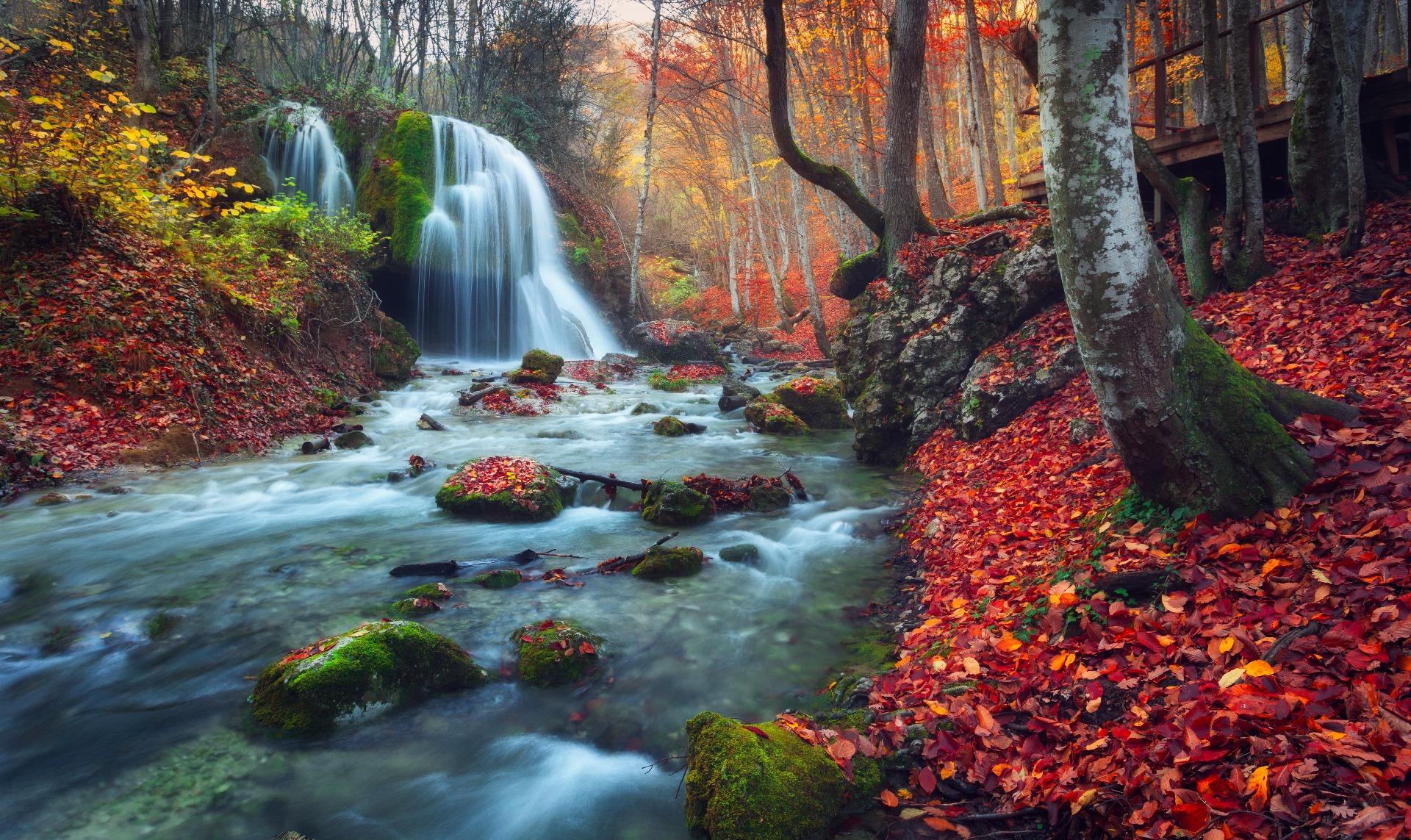 Kieliversiot
ENGLISH

Leivonmäki National Park - a hiking site for the whole family
Leivonmäki National Park is called the small giant of the Central Finland environment because you can experience the biodiversity of the local nature in the park, that is only three square kilometres in size. The national park offers valuable swamp, ridge and forest nature, ponds and lakes, and the foaming Rutajoki rapids.
Leivonmäki National Park is located in Central Finland, around an hour's drive from Jyväskylä. 25,000 people visit the national park least year. Most of them are from the Jyväskylä region, but more tourists from farther away come each year. The park is located close to a highway and population centres, it includes versatile yet easy to reach hiking routes and it also includes guiding materials providing nature education. All of these issues combined attract many school classes and families with children to the park.
Four seasons but always easy to walk - even in the swamp
The most valuable part of the natural park in terms of nature conservation is Haapasuo bog. You can also study the bog by embarking on a two-kilometre hike along duckboards. On the same parking lot as the hiking trails, you can start the Luupää hike which will take you to, for instance, a Lapp hut on the shore of Lake Harjujärvi. The needs of people with disabilities have also been taken into account in the national park.
The park's symbol bird, European nightjar, lives along the ridge. You can hear the nightjar's buzzing song at night in the summertime. A path to the north will take you to Harjunlahti beach. In the wintertime, skiing tracks that go round the entire park start at the beach.
Plenty to do and top-class accommodation
Metsähallitus, the authority in charge of the national park, has also built hiking routes and resting places along the shores and in the islands of Lake Rutajärvi. There are several shops renting hiking gear and programme services and activities are also available. The accommodation capacity close to the park has been increased.
Leader support assists in retaining the national park's history
Local residents and entrepreneurs have established a support association for the national park, called Leivonmäen kansallispuiston ystävät ry (Leivonmäki National Park Support Association), to assist in developing the services of the national park. The association arranges trips, maintains the skiing tracks and cares for the park's traditional biotopes with voluntary labour.
www.outdoors.fi/leivonmaki
---
SVENSKA

Leivonmäki nationalpark - ett vandringsområde för hela familjen
Leivonmäki nationalpark kallas den lilla jätten i Mellersta Finland. Där kan du uppleva naturens biologiska mångfald i nationalparken som bara är tre kvadratkilometer stort. Nationalparken erbjuder värdefulla myrmarker, ås och skogs natur, dammar och sjöar och den brusande Rutajoki forsen.
Leivonmäki nationalpark ligger i mellersta Finland, cirka en timmes bilfärd från Jyväskylä. Varje år besöker 25.000 personer nationalparken. De flesta av dem är från Jyväskylä regionen, men fler och fler turister kommer längre ifrån varje år. Parken ligger nära en motorväg och tätorter, och har mångsidiga men ändå lätt tillgängliga vandringsleder och det finns också pedagogiskt material för naturutbildning. Kombinationen lockar många skolklasser och barnfamiljer till parken.
Fyra säsonger men alltid lätt att gå - även på myren
Den mest värdefulla delen av nationalparken för naturskydd är myren Haapasuo. Du kan uppleva myren genom att gå på en två kilometers vandring längs spångar. Från samma parkeringsplats som vandringslederna utgår Luupää vandringsled som bland annat tar dig till en lappkåta vid stranden av sjön Harjujärvi. Behoven för personer med rörelsehinder har också tillgodosätts i nationalparken.
Parkens signaturdjur nattskärran bor längs åsen. Du kan höra nattskärrans pulserande sång på natten om sommaren. På en stig norrut kommer du till Harjunlahti strand. På vintern börjar där skidspår som går runt hela parken.
Massor att göra och förstklassig boende
Skogsstyrelsen, den myndighet som ansvarar för nationalparken, har också byggt vandringsleder och rastplatser längs stränderna och på öarna i sjön Rutajärvi. Boendekapacitet nära till parken har ökat, det finns flera butiker som hyr ut vandringsredskap och olika guidade turer samt programtjänster finns också tillgängliga.
https://www.outdoors.fi/leivonmaki
Lokala invånare och företagare har etablerat en stödförening för nationalparken som kallas Leivonmäen kansallispuiston Ystävät ry (Leivonmäki nationalpark Support Association), för att hjälpa till att utveckla tjänsterna i nationalparken. Föreningen arrangerar resor, underhåller skidspår och sköter om parkens biotoper med frivillig arbetskraft.
---
DUITSE

Der Leivonmäki--Nationalpark, ein Wandergebiet für die ganze Familie.
Der Leivonmäki Nationalpark ist eine der vielseitigsten Gegend in der Mitte Finnlands, obwohl er nur 3 qkm gross ist. Der Nationalpark zeichnet sich durch einen biologisch wertvolles Moorgebiet, Wälder und eine eiszeitlich geformte und abwechselungsreiche Landschaft aus. Lassen Sie sich an den Wanderwegen durch kleine eiszeitliche Berge, Landrücken, kleine und grosse Seen und durch den Rutajoki -Wildbach mit langgestreckten Wasserfällen überraschen.
Der Natinalpark ist nur 40 Minuten von Jyväskylä enfernt, nahe der Hauptstrasse 4, nicht weit von den Dörfern Leivonmäki und Rutalahti. Es gibt Parkplätze mit Infotafeln und im Internet finden Sie umfangreiche Karten Erläuterungen und Informationen auf englisch unter
www.outdoors.fi/leivonmaki.
4 Jahreszeiten, aber immer sind die Wanderwege leicht begehbar oder per Ski benutzbar
Der wertvollste Teil dieses Naturparkes ist das Haapasuo Moor, bei Betrachtung als ein Stück der Naturerhaltung. Auf dem Parkplatz kann man an einem Schaustück die Entstehung des Moores und seiner Ablagerungen seit der Eiszeit studieren.und danach die 2 km lange Runde auf Bohlenwegen geniessen. Bei einer Rast ist die Aussicht von dem Beobachtungsturm für Vögel empfehlenswert. Von diesem Parkplatz können Sie auch auch den Weg zum Harjusee nehmen, und dort hat man auch einen speziellen Weg für gebrechliche Besucher eingerichtet. Weiter nördlich finden Sie den Badeplatz an dem Harjunlahti. Im Winter ist es auch der Start für die 10 km Skirunde. Besonders empfehlenswert ist die Wanderung auf dem eiszeitlichen Landrücken des Joutsniemi, mit Grill-und Badeplatz am grossen Rutasee. Der Rastplatz am nahen Lintuniemi ist mit einem Schutzdach und einem kleinen Zeltplatz noch besser ausgestattet.
Es gibt eine Vielzahl von Unterkünften und Unterstützung
Die staatliche Forstverwaltung ist für den Ausbau und Erhalt des Nationalparkes zuständig, aber auch einige private Unternehmer bieten Unterkünfte, Ausrüstungen und Wanderprogramme an. Eine wichtige Rolle spielt ausserdem der "Verein der Freunde des Leivonmäki-Nationalparkes" mit unterschiedlichsten ehrenamtlichen Veranstaltungen.
---
FRANÇAIS

Le parc National Leivonmäki, un site de randonnées pour toute la famille.
Le parc National Leivonmäki est nommé le ''petit géant de l'environnement de la Finlande centrale'' car il est possible d'y expérimenter la biodiversité locale sur un territoire de 30km2 seulement.
On y trouve de riches marécages, des paysages de crêtes et de forêts, des étangs, des lacs, et les rapides bouillonnants de Rutajoki.
Le parc National Leivonmäki est situé au centre de la Finlande, à une heure de route de Jyväskylä. Il reçoit annuellement 25000 visiteurs dont la majorité provient des régions limitrophes mais chaque année de plus en plus lointaines. Le parc est à proximité de zones habitées et d'une sortie d'autoroute; les routes de randonnées, de différents niveaux, sont jalonnées d'équipements pédagogiques autour de la nature. Tous ces atouts rendent le parc attractif aux groupes scolaires et aux familles avec enfants qui viennent en nombre.
Il est toujours accessible quel que soit la saison, même dans les marais !
La partie la plus intéressante de ce parc naturel est le site conservatoire de la tourbière de Haapasuo. Vous pouvez aussi découvrir l'histoire de la formation de la tourbe en cheminant sur deux kilomètres de sentiers de caillebotis au cœur de la zône.
Depuis parking de départ des randonnées, vous pouvez aussi prendre le chemin de Luupää qui vous amène une cabane Laponne située sur la rive du lac Harjujärvi.
Le parc est également accessible aux personnes à mobilités réduites.
L'oiseau symbole du parc est l'engoulevent d'Europe est. Il vit le long des crêtes.
En été, la nuit, vous pouvez entendre son chant bourdonnant.
Un autre chemin vers le nord vous amènera à la plage Harjunlahti.
En hiver, les pistes de ski de fond circulent autour de l'ensemble du parc à partir de la plage.
Il existe des hébergements de première qualité.
Il y a beaucoup de choses à faire....
Metsähallitus, l'autorité en charge du parc national, a également construit des itinéraires de randonnée et des aires de repos le long des côtes et dans les îles du lac Rutajärvi.
La capacité d'hébergement à proximité du parc a été augmentée, des magasins propose des circuits de randonnées et des équipements en location.
Une association été fondée par les habitants et les entrepreneurs locaux. Elle se nomme Leivonmäen kansallispuiston ystävät ry, et son rôle est de favoriser le développement, l'accueil et les services du parc national. L'association organise des excursions, assure la maintenance des pistes de ski et protège les biotopes traditionnels du parc avec l'aide de bénévoles.